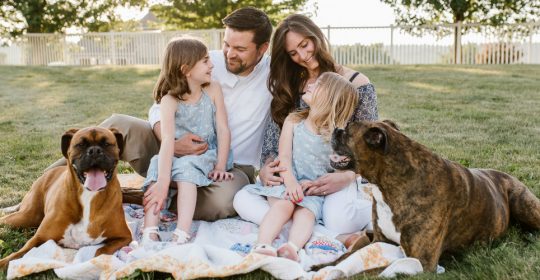 Nine-year-old Sofia Allen has a disease with a very long name, but the description of its impact is very short; it has made her legally blind. The disease is known as ADOA and it stands for Autosomal Dominant Optic Atrophy. It is a complex, rare, inherited disease carried in a recessive gene that affects the optic nerves. Few doctors specialize in the disease, the diagnosis is difficult because symptoms vary widely from one child to another, and the diagnostic journey is described by the Allen family as "very difficult, emotional, and confusing."". For these reasons and more, the Allen's founded the Autosomal Dominant Optic Atrophy Association (ADOAA) to increase awareness, education, support and research. This is the story of Sofia and her family.
Sofia was diagnosed with ADOA when she was three years old. By four she had lost most of her vision and was legally blind. She also suffers with muscle atrophy; another symptom of the disease. Sofia's symptoms are different from others. She lost her vision fairly quickly – over the course of a couple of years, then progression of the disease seemed to stop. However, there is no way to know if it has stopped permanently, or if the vision loss will continue to occur.
ADOA is a progressive disease and robs various amounts of vision over time. Some, like Sofia, become legally blind while others can lose as little as 10 percent of their vision. Some children lose their hearing as well as their vision. The tragic common factor among all children with ADOA is that there is no treatment, cure or preventative measures for the disease. With the ADOAA, Sofia's family is working to change all that, and raise funding for research.
"Our hope is to provide a community of support for those diagnosed with the disease," said Sofia's mother Lindsey. "First, we want to raise awareness of the disease. Because it is so rare, many doctors have never even heard of this disease and that makes it difficult to properly diagnose their patients. Ultimately, we hope to raise funds to support medical research to find a cure."
The work of the ADOAA is already forging ahead, providing support and information to families who have a child with the rare disease. The organization has heard from families across the globe; each of whom has very different experiences with the disease, but the same frustrating experience trying to get a diagnosis. ADOAA medical advisory board experts make themselves available to talk to these parents who are desperate for information. The panel is made up of some of the very few physicians who are extremely familiar with ADOA and involved in research on the disease. Several of them were Sofia's physicians.
"They are willing to speak to the families personally," said Lindsey. "They are willing to share information and answer as many questions as they can, given that they haven't seen the patient. That is very important because when Sofia was diagnosed, we had no one to turn to, no information, and struggled to find doctors who knew about ADOA."
The Allen's are changing that equation for other families. Advisory board physicians keep the board of directors updated on research and news about the disease, and they will conduct more research as the ADOAA raises funds for it. The disease is so rare, that physicians aren't sure exactly what type of research will be needed, but together they are figuring it out.
In the meantime, Sofia is doing well. In fact, it's safe to say she has been a star at school since she began. Fortunately, she attends a supportive school that pays very close attention to integrating her into the school community. When she was in 1st grade the teacher helped Sofia make a presentation, and a book, to explain her disease to her classmates. She showed the class the magnifiers she uses to read. Sofia has an aide who works with her throughout the school day and twice a year the teachers, support staff and Sofia's parents get together to develop her Individualized Education Program (IEP). She has the technology she needs to learn, and Sofia's mother says the school "works closely with us in order to provide the best environment for her educational success."
One point that illustrates the school's attention to detail for Sofia is this: school staff places bright yellow tape at the edge of all the blacktop on the playground so that she can easily see the transition from pavement to grass.
Yet, not everyone experiences this type of comprehensive support. Lindsey says she has spoken to a mother in Tennessee who can't get the school to print large print handouts for her son who has ADOA. He has no aides and no support through the school day.
When we asked Sofia's mom what she wants other parents to know she immediately said, "That it's going to be ok. We are not going to stop until we know more about this disease and can find a treatment or cure. In the meantime, we are committed to providing as much support as possible in order to make everything a little bit easier for families with children with ADOA."
Lindsey's sister Melissa sits on the ADOAA board of directors and she is just as passionate about the work. "One of the things that parents can do is to put their energy into helping the organization so that eventually we can find a treatment or cure," she said. "It's one way to not let this happen 'to you', but to take control. One of the most powerful things anyone can do is to volunteer, hold a fundraiser, and help us connect everyone impacted by this disease. Working together we will find a cure."