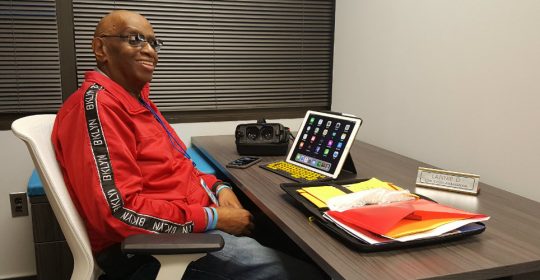 Have you caught an episode of our vlog, Coffee Talk with Lannie D? If not, it's time to view the series and catch up on what you've been missing. It's a moving, firsthand look at daily life with low vision, escorted and narrated by Lannie D. You can find the vlog on our website, Facebook page or YouTube channel.
One of the goals of the vlog is to increase awareness of low vision and the advanced wearable technology that is available today to enhance it. As part of their campaign, Lannie and Bari Azman, Vice President, Marketing and Technology at Low Vision of Maryland & Virginia (LVS), visited the set of ABC 7 WJLA's Let's Talk Live. They introduced television viewers to Lannie and talked about the revolutionary benefits of vison-enhancing wearable technology like IrisVision. It's also the day that Lannie described going to his first professional sporting event while wearing his IrisVision glasses.
"Bari took me to my first professional hockey sporting event to watch the Washington Capitals play the Philadelphia Flyers (ice hockey). I could see the puck! I even enjoyed watching them clean the ice with the Zamboni," he said.  "Imagine turning the lights off and being in a dark room, then turning the lights on again. That is what IrisVision has done for me. That is why it was such a thrill going to the game. I never could have believed I would be able to see a tiny detail like the hockey puck."
Lannie is a soft-spoken and humble; the beneficiary of the ground-breaking IrisVision technology. Sometimes he bubbles over with the joy. Other times he struggles to express his gratitude for the technology that has allowed him to see once again. But always he leads viewers through the looking glass to see what it's like when advanced technology enhances vision for those faced with life without sight.
Here is a look at some of the episodes of Coffee Talk with Lannie D:
In Episode 2 Lannie describes what it is like to be a Low Vision U Ambassador. "I like to talk to people who ask me about my life and what it's like to have low vision. We need to educate people – those with low vision and those who can see. It's my opportunity to give back and give people information. I don't leave home without my IrisVision glasses. Believe me, I don't have a script, I'm not here to sell. I'm here to tell people what works for me."
In Episode 4 Lannie describes what it was like when he realized he was losing his sight and the doctors could do nothing to prevent it. "It got to the point where I couldn't pick up things. I kept thinking about my motorcycle – I love my motorcycle. I thought, 'I need to be able to see my grandkids and my wife.'  I was a handy man. I loved to dance. I loved to have fun. I didn't know what I was going to do. At one point I didn't even want to leave the house to take out the trash. But now, with the IrisVision glasses, I'm busy finding out what I can do again. Now I have these glasses, I'm out there trying new things all the time."
In Episode 6 Lannie and Bari visit the Maryland State Library for the Blind and Physically Handicapped. They interview Ashley Biggs, outreach librarian, to show viewers the extensive resources offered at the library.
One of the most exciting episodes is number 7, in which Lannie takes Bari to the U.S. Naval Academy during commissioning week to watch the high-speed US Navy Blue Angels perform aerial maneuvers.  Lannie watched the performance wearing his IrisVision glasses. "It was almost better than what I could see with my own eyes before I lost my vision. After 12 or 13 years of having problems with my eyes, this is the first time I can say I really saw the show with my own eyes."
An especially moving episode is number 9, in which Lannie and Bari visit Low Vision U Ambassdor Glenda who is legally blind from a genetic disorder. We watch as Glenda sees the world for the first time through IrisVison glasses. Speechless, she cries after using them and Lannie consoles her saying "I know, there are no words."
The series continues and in Episode 12, Lannie and Bari visit Blind Industries & Services of Maryland (BISM), located in Baltimore. Seventy percent of the blind population is unemployed, a situation that LVS and BISM find unacceptable. Both companies are dedicated to changing that statistic, as evidenced by the fact that the majority of BISM's 600 employees are blind or low vision. This episode explores how BISM is changing attitudes about blindness, and lives.
That brings us to the latest episode, number 14, in which Lannie regrettably announces to the vlog's family that he has been diagnosed with cancer. The bad news is that he will need cancer treatments and surgery. The good news is that Lannie says "The hospital is a foreign environment, but I could see it. IrisVision helped me find my way through the hospital and it will all be good."
"We cannot give up and we won't give up," said Bari. Lannie is a stalwart spirit and he will make it through this. He has all of us to support him along his journey."
Coffee Talk with Lannie has a goal of 10,000 subscribers. Please visit us on You Tube today and subscribe.