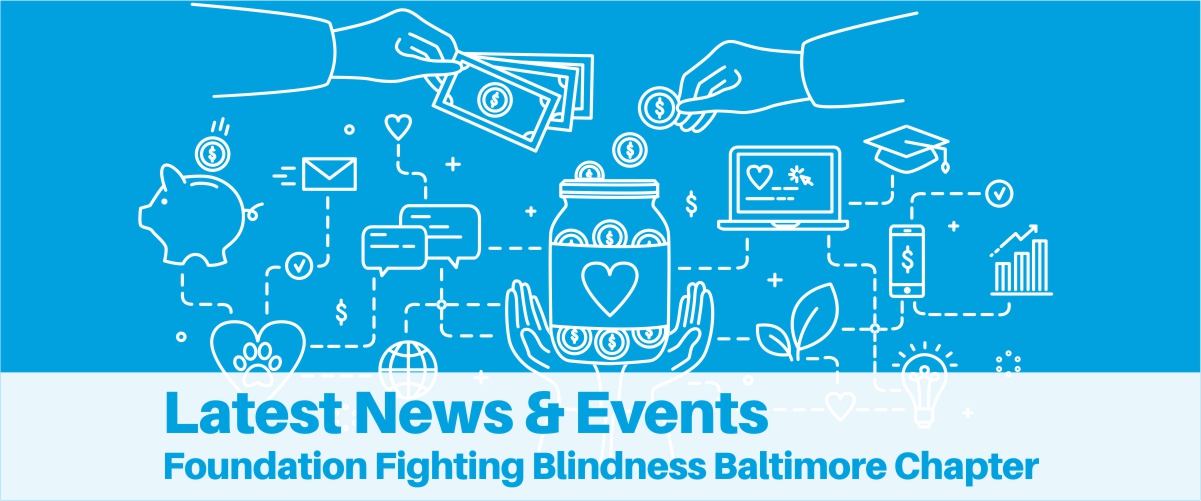 Last year one of our executives was asked to join the board of directors of the Foundation Fighting Blindness (FFB) – Baltimore Chapter to support them in their work raising funds for retinal disease research. We consider it an honor and a privilege to serve the mission of the FFB, which is to "raise funds that drive the research to find cures, treatments and prevention's for inherited retinal diseases that lead to blindness". It is exciting work that has singled handedly funded groundbreaking research and led to important discoveries in the fight against blindness. We would like to tell you a bit about their recent work.
FFB is the world's leading private funder of retinal disease research and to date has raised more than $725 million. Along with its Clinical Research Institute, the Foundation has funded more than 100 research grants in genetics, gene and stem-cell therapies, retinal cell transplantation and pharmaceutical and nutritional therapies. That research has been pivotal in the identification of more than 250 genes linked to retinal disease and the launch of 20 clinical trials. You can see why we are so excited to be part of this organization and have the opportunity to support their work.
The first event that we are part of is the 11th Annual Baltimore VisionWalk. We are posting a team and have set a goal of raising $10,000 for the walk – but more on that later. First, we there is news on groundbreaking clinical research being funded by FFB.
Just this month FFB announced they have entered into a partnership with ProQR Therapeutics N.V. to develop a drug to treat Usher syndrome 2A. Usher syndrome 2A is a devastating genetic disease that causes patients to first losing their hearing and then progressively lose their vision. There are currently no therapies commercially available or in clinical development for the vision loss associated with the syndrome. FFB will provide up to $7.5 million in funding to ProQR for the preclinical and clinical development of the drug, which is expected to "advance towards the clinic in 2018, and safety and efficacy results from the Phase 1/2 trial in Usher syndrome patients are expected in 2019."
In addition to funding clinical breakthroughs, FFB enhances quality of life for those with low vision and blindness and helps them to enjoy mainstream entertainment. One example of this is the FFB "Touch Tours" that allow patrons of the Baltimore Center Stage theater to feel the costumes, props, and/or sets used in the show. Conversation with the production, artistic, and/or dramaturgy team is also included before every performance. The FFB also makes sure that Audio Description and assistive listening headsets, large print and braille programs are available from the Box Office at no charge.
That brings us back to the FFB 11th Annual Baltimore VisionWalk fundraiser that takes place on Sunday, June 3, 2018 at Latrobe Park & Fort McHenry National Monument in Baltimore. Registration is at 9:00 am and the walk begins at 10:00 am. The fundraising goal of FFB is $124,000 and we intend to raise a chunk of that. Join us, won't you? Supporting new research that can fight blindness is a mighty cause. You can contribute and/or join our team and we would love to have you. Every day we work with patients who live with low vision and blindness and we believe that if we all band together, we can find a cure for the diseases that cause it.