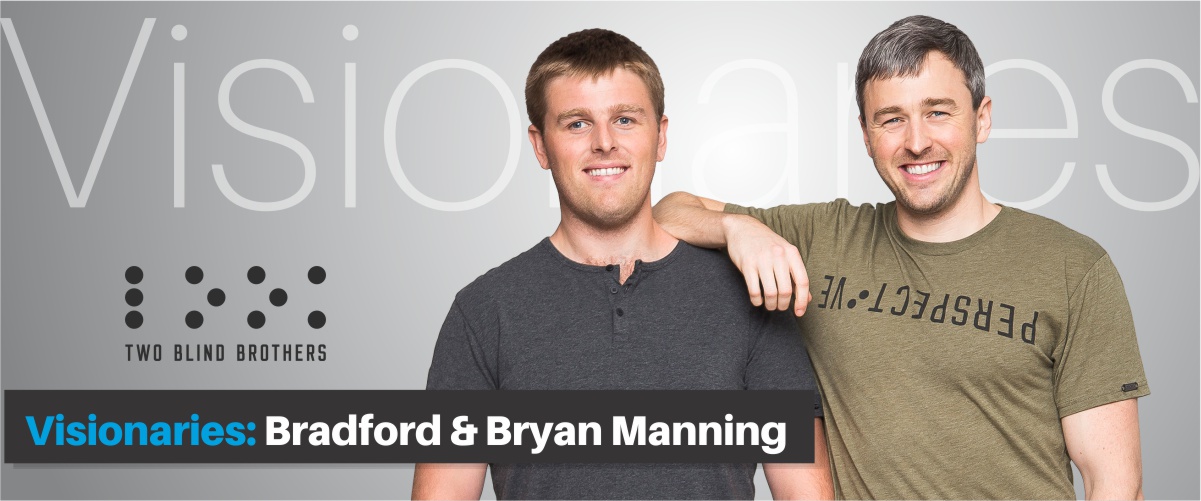 Bradford and Bryan Manning were diagnosed with Stargardt's disease, a progressive disease that results in blindness, at the age of seven. You would never know it.  They have completed high school, played Lacrosse, graduated from college with double majors and founded one of the fastest growing start-ups in the country, Two Blind Brothers – and they're not done yet. Here is the story of two of the most inspirational, barrier breaking people you could ever hope to meet.
"My brother and I were never going to view our handicap as a disability," said Bryan. "And that came from our parents. They always told us that some people we meet will be taller or smarter than us, some won't be able to hear as well. They said 'Everyone has their own difficulty. You are lucky you know what yours is.' For that, we will never be able to thank them enough."
That's the philosophy that created two fearless brothers who took on the world. Their vision impairment became normal for them. Stargardt's disease steals the central field of vision, like macular degeneration. The peripheral vision remains, but when the central field of vision is gone it is impossible to read, see faces and other objects that lie straight ahead.
"Looking back on it, not being able to see like everyone else was a gift for us," said Bryan. "At a very early age we had to have the self-confidence to ask for help and to be comfortable with having attention pointed at us." The boys had to get up and walk to the chalkboard, standing close in order to read it. They would chat with people they met to get to know them because they couldn't become familiar with them by sight.
"We look at our experience as a positive thing," Bryan said. "Not every day of course. There are tough moments, but they truly make you a stronger, better person."
They had to be tough. The assistive technology that got Bryan and Bradford through high school was a magnifying glass – literally. College was a bit easier because technology had advanced and Macbooks with zoom function was available. The iphone made life easier with its speech to text function and televisions allowed for screen magnification and voice control. Now things are even easier with document to speech technology on laptops, ipad smart whiteboards and zoom functions that magnify text or images ten or twelve times.
That brings us to Two Blind Brothers.
The idea for the company came from the brothers' desire to start a side project that would expand awareness of visual impairment and allow the brothers to raise money for eye disease research. One day while they were pondering what to do, the collective light bulb went while shopping. Bryan and Bradford realized that they selected clothing based on the softness of the fabric, not the style or size or price, because they couldn't see those things.
"We explore the world through our hands," said Bryan. "That day we discovered that we had both selected the same shirt based on its softness. So we thought, why not design clothing around its softness, its comfort and its fit? That was the seed of our idea." It quickly germinated into a company, Two Blind Brothers.
The name of the company was easy. Bryan and Bradford had always been referred to as "the two blind brothers", so it was a natural. "That's who we are," said Bryan. "There's no hiding behind that fact." It's just one more example of their pragmatic, common sense approach to life.
The brothers spent six months selecting the perfect soft fabric. Then they designed versatile, chic, dress-down or dress-up shirts that they would want to wear themselves.
A viral, national presence
Once the shirts were designed Two Blind Brothers was ready to begin selling. A friend of theirs put together a video telling their story, released it on Facebook and it exploded; garnering 100 "shares" the first day it was released. In November, The Ellen DeGeneres show called. On January 3rd Bryan and Bradford were in Los Angeles being interviewed on the show and it aired the next day. NBC news picked up the story at the end of January. By February Bryan and Bradford were gearing up the company for large scale production, had quit their full-time jobs, and hired a team of employees.
The drive to be authentic and be a brand that can stand behind what it does is at the core of the company. Two Blind Brothers hired the Dallas Lighthouse for the Blind to produce the shirts. Seventy percent of the employees are vision impaired or blind, and through special equipment, widgets and work-arounds, a special team of employees does the cutting and sewing of the shirts.
In one year, the company went from selling its first shirt to the brother's high school physics teacher to becoming the fastest growing non-profit start-up in the country.
How are they doing?
To date the company has donated $70,000 to eye disease research.
The brothers aren't done yet, in fact they have just begun. They are developing new products and new partnerships to expand their reach. They are working on scheduling speaking engagements across the country to spread the word of their non-profit, fundraising work.
They are also establishing the company as the "go-to" for those with vision impairment. They aren't just for customers, Bryan said. They are for anyone who has a vision disability, kids, adults, those with questions or who need to talk. "Please tell everyone they can reach out to us via Facebook and we will respond to their questions, comments or messages," Bryan said.
The brother's authenticity lies in who they are, their character and their philosophy of life. "We want people to know that happiness can be found in hardship," said Bryan. "When you are willing to view challenges as an opportunity and put effort into overcoming them, it will be the most rewarding experience of your life."
That's why Two Blind Brothers inspire and why they are changing the way the world looks at blindness and the people who live with it.
Learn more about Two Blind Brothers and their mission to cure blindness.