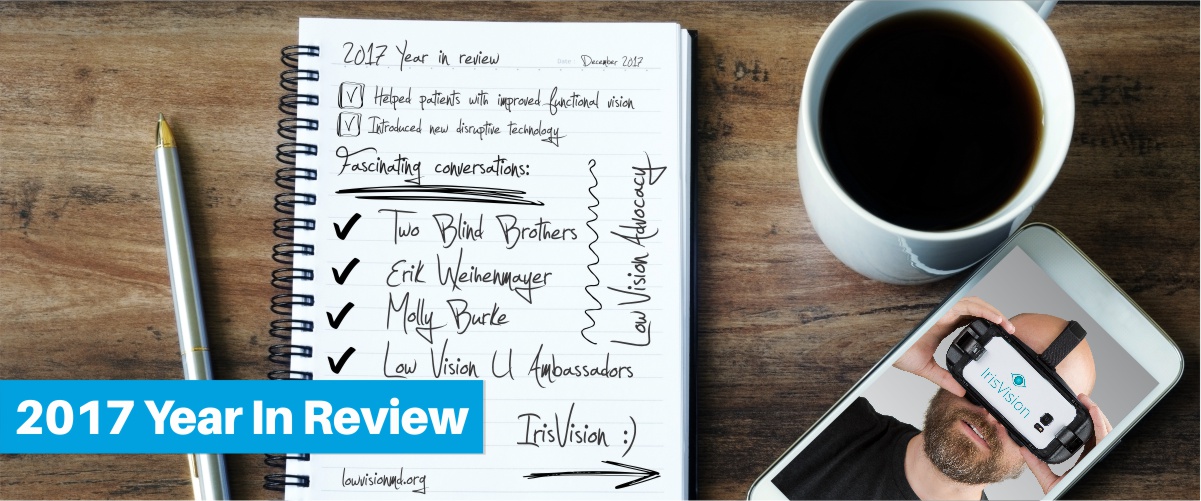 As we reflect upon our achievements over the past 12 months, 2017 was an extraordinary year at Low Vision Specialists of MD & VA. First and foremost, we helped a significantly larger patient demographic with our one-of-a-kind low vision services, introduced new disruptive technology to our patients, launched our low vision advocacy program "Low Vision U Ambassador", held fascinating conversations with world-famous visionaries in low vision and blindness and much more.
Innovative wearable technology
In 2017 LVS expanded its disruptive technology offerings with the launch of revolutionary new wearable technologies IrisVision and Aira.
IrisVision: We assisted IrisVision, the most powerful and affordable vision enhancement technology available on the market today, by performing beta testing in our practice. IrisVision improves vision for those suffering with macular degeneration and other vision impairment diseases and costs less than half of other vision enhancing technologies.
IrisVision is revolutionary because the software magnifies the central field of vision, the area that often deteriorates from eye disease like macular degeneration, using a 16 MP camera. The screen displays 10X more pixels per inch than an HD TV and provides a wide 70° field of view, the widest on the market today for any low vision wearable device.
Aira is just as exciting. It is one of the first technologies designed to expand the living environment for those who are blind. With Aira on-call agents, blind people can traverse an environment with unexpected obstacles. Aira is a support system that includes a small camera attached to Google smart glasses and an on-call live, certified agent. Through the live stream in the Google smart glasses, the agent can see the user's environment and guide the user on their way. In 2017 LVS became an Aira preferred partner that allows us to demonstrate the new technology at our practice locations throughout Maryland and Virginia.
Fascinating conversations with visionaries at The 20/20 Low Vision Blog
In 2017 LVS launched our visionary blog, a conversation with innovators, entrepreneurs and visionaries who are breaking barriers for those who are low vison or blind.
Tony Jasionowski from Panasonic: We began our Visionary Blog series with Tony, Senior Group Manager, Aging & Accessibility, Panasonic Corporation of North America. Tony described for us Panasonic's established policy of following Universal Design, Inclusive Design and Design for All that ensures accessibility in all its telephone and television products. Working with the American Foundation for the Blind and other associations, Tony has led the charge as the company designs and manufactures phones, televisions and remotes with accessibility features for the low vision and blind.
Two Blind Brothers: Bradford and Bryan Manning took the world by storm when their clothing company, Two Blind Brothers, was featured on The Ellen DeGeneres Show and NBC News. Diagnosed at age 7 with sight-stealing Stargardt's disease, the brothers decided that blindness would not be a disability. They created a clothing company that donates all profits to eye disease research and in less than two years they have donated more than $70,000.
Erik Weihenmeyer: The first blind man to summit Mt. Everest. Need we say more? Erik kayaked the full length of the Colorado River including its white water, climbed the world's seven highest peaks and was the first blind solo paraglider. Erik lives his life breaking, expanding and reshaping people's expectations of what it means to be blind or impaired in any way. We talked to him about the non-profit he co-founded, No Barriers, to spread the message of living a life without limitations to those who are blind, or impaired in any way.
Molly Burke: We spoke with this powerhouse and global advocate who is also a bright, young YouTube sensation with more than 200,000 followers. She has turned her experiences with cruel teens into a march across the globe to prove what fortitude can do to shine one's inner light to the world. Her credits include being the face of Dove's international ad campaign, a Special K ambassador, collaborator with Martin Luther King III, Archbishop Desmond Tutu and You Tube blockbuster star Casey Neistat.
Education and advocacy
2017 was the year we launched our Low Vision U Ambassador program with Glenda, Sam, Diane, Jason, and Lannie. Low Vision U is a center of advocacy for those living with low vision and blindness. Our ambassadors are spreading the word that after diagnosis of low vision, enhancement of vision can begin with custom telescope or microscope glasses, innovative wearable technologies that change lives and expand the living environment. Glenda has no central vision, Sam is the creator of YouTube channel The Blind Life and Lannie could no longer see his grandchildren. We continue to recruit new ambassadors. Find out how you can become one today!
Last but not least, 2017 was the year we launched our corporate low vision division to support the workforce accessibility initiatives of forward-thinking corporations and businesses. We help companies establish internal programs that facilitate and promote the hiring of talented, skilled individuals who are visually impaired. Forty-one percent* of those age 21 to 64 with any disability are employed, compared with 79 percent of those with no disability. The LVS corporate low vision division helps corporations address that gaping inequality.
You can see why 2017 was such an exciting and energizing year for LVS. Our mission, our passion and our driving motivation is to change the lives of those living with low vision and blindness. Everything we do is in pursuit of that goal. 2018 will bring us closer to achieving it as we pursue technology and new opportunities for those living with low vision and blindness.
*US Census Bureau